Always runners, always scientists: running in resiliency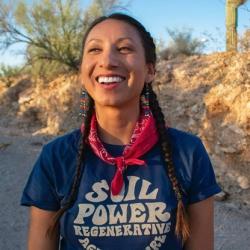 Dr. Lydia Jennings' T3 Fundraiser
My name is Lydia Jennings, and I am a citizen of the Pascua Yaqui Tribe. I have been part of AISES since 2014, am a "Lighting the Pathway" scholar of the 2015 cohort, and recently completed my PhD at the University of Arizona, titled "Reclaiming Mining in Southern Arizona: Considering Science and Policy Aspects that Build Resiliency."
Due to COVID-19, my graduation, and that of many other students in the class of 2020, was canceled. To find an alternative way to celebrate, I have decided to run 50 miles to celebrate my graduation, which I will be doing on March 20, 2021 along the Arizona Trail. The Arizona Trail is an 800-mile recreational trail that spans from Mexico to Utah along Indigenous trading routes. I will be running 50 miles close to Tucson, which is where my community is located. Along the run, I will be dedicating each mile to a different Indigenous scientist who has navigated the hallways of academia to create more pathways for future Indigenous students. I am calling my run "Always runners, always scientists: running in resiliency."
Throughout my education journey, I have been so grateful for the scholarship of Indigenous knowledge holders before me, and can only imagine what their experiences were like being the first in a field, fighting to show the validity in their lived experiences. This run is a small step towards paying homage to them. I am dedicating the last mile to the students who come after me. I would like to use this run to raise money for students who have struggled through COVID-19 educational conditions.
I found AISES to be so important in my own educational journey -- I see the community and support from the organization as key to my personal success.
ABOUT Together Towards Tomorrow (T3) Funds
The T3 Fund will allow AISES to provide Native American/Indigenous undergraduate and graduate students enrolled in an accredited U.S. college or university who have been affected by the COVID-19 pandemic a one-time scholarship of $500. Read More about the AISES T3 Fund.
Please join us by offering support to Native American students who are still being affected by the pandemic through this fundraiser by Dr. Lydia Jennings.
Supporters
Name
Date
Amount
Comments
Valerie Stone
12/20/2021
$51.80
A run of gratitude - what a beautiful way to honor those who have inspired you.
Bill Teng
12/18/2021
$103.30
Nicole Adams
11/06/2021
$31.20
Rosie Alegado
10/21/2021
$51.80
to celebrate Lydiaʻs achievements and to support the Indigenous scholars to come.
Marian Schmidt
10/20/2021
$103.30
Dominique David-Chavez
06/27/2021
$41.50
Kelly Degering
06/10/2021
$10.61
Aleena Arakaki
06/09/2021
$10.61
Timberley Roane
06/09/2021
$206.28
Anthony Kahn
05/10/2021
$51.80
Stephanie Carroll
04/23/2021
$103.30
Lulululu!!! Dr. Jennings!
Michael Bacon
04/13/2021
$51.80
Julie Neilson
03/31/2021
$51.80
Erica Lohrey
03/30/2021
$51.80
Anonymous Friend
03/28/2021
$20.91
Brilliant! Congratulations on your PhD and celebrating with this incredible run Dr Jennings!
Leslie Driskill
03/27/2021
$20.91
Good Luck, Dr. Jennings!
Andrew Kniss
03/26/2021
$103.30
Kristin Timm
03/26/2021
$26.06
This is so inspiring! Congratulations!
Nell Green Nylen
03/26/2021
$51.80
Diane Thompson
03/25/2021
$51.80
Kate Murray
03/25/2021
$20.91
Maryam Zaringhalam
03/25/2021
$51.80
Kadie Heinle
03/25/2021
$20.91
Anonymous Friend
03/25/2021
$18.85
Anonymous Friend
03/25/2021
$103.30
Ryan Trainor
03/25/2021
$51.80
David Pomerantz
03/25/2021
$51.80
Congratulations!
Rosemary Mosco
03/25/2021
$41.50
Anny Chung
03/25/2021
$51.80
You are such an inspiration!
Merritt Turetsky
03/25/2021
$206.28
Thank you for inspiring us all.
Sarah Crump
03/25/2021
$31.20
Anonymous Friend
03/25/2021
$51.80
For future scholar/runner/scientists in AISES!
Philip Bell
03/25/2021
$103.30
Thank you, Dr. Jennings!
Alexander Rivest
03/25/2021
$51.80
Sarah Brinkley
03/25/2021
$30.00
All the congrats!!
Erin Lowe
03/25/2021
$25.00
Anonymous Friend
03/24/2021
$103.30
Katie Keating
03/24/2021
$51.80
Daniel Rimmer
03/24/2021
$51.80
Congratulations Lydia! You keep setting higher and higher bars of excellence
Alessondra Springmann
03/24/2021
$10.61
Carrie Joseph
03/24/2021
$46.46
Lia Ossanna
03/24/2021
$103.30
Corey Welch
03/24/2021
$51.80
Mile #34
Joanna Nelson
03/24/2021
$20.91
Dr. Jennings! Proud of you finishing your PhD and a 50-mile run, and the Indigenous scientists/scholars you honored, as well the rising scholars. With admiration and respect, I am honored to contribute to your efforts.
Melissa Miller
03/24/2021
$103.30
Yoshira Van Horne
03/24/2021
$26.06
Congratulations Dr. Jennings, que viva #SoilPower
Colleen Miller
03/24/2021
$21.12
Anonymous Friend
03/24/2021
$103.30
So inspired by you.
Luz Huntington-Moskos
03/24/2021
$26.06
Beautiful way to celebrate your achievement!! Congrats!
Dan Silbaugh
03/24/2021
$103.30
Congratulations Doctor! A doctorate AND a 50 mile-er. Awesome.
Karen Vaughan
03/24/2021
$103.30
Lydia - you are an inspiration - thank you for ALL the important work you do!
Patrick Culbert
03/24/2021
$26.06
Randa Jabbour
03/24/2021
$51.80
Congratulations, Dr. Jennings!
Michelle Baker
03/24/2021
$104.37
Congratulations, Lydia Jennings on your achievements. May you continue to be a shining light and inspiration to all.
Jenny Kurzweil
03/24/2021
$51.80
Congratulations Dr. Jennings! I am so inspired by you and the work you do in the world!
Aaron Yazzie
03/24/2021
$103.30
To Dr. Jennings who inspires me!
Katherine Earp
03/24/2021
$51.80
Monica Feliu-Mojer
03/24/2021
$51.80
Way to go, Lydia!
Christy Till
03/24/2021
$51.80
Asmeret Asefaw Berhe
03/24/2021
$52.91
Way to go Lydia. As I dedicate each mile to the amazing native scholars, allow me to dedicate my donation to you.
Amy Burgin
03/24/2021
$51.80
Congrats!
John Burnett
03/24/2021
$51.80
Lisa Graumlich
03/24/2021
$51.80
Congratulations Dr. Jennings!
Sophie Comer-Warner
03/24/2021
$51.80
Sam Packard
03/23/2021
$51.80
take my stimmy
Anonymous Friend
03/23/2021
$31.20
Regina Kuwanhoyioma
03/23/2021
$51.80
So proud of you, Dr. Jennings! Congratulations!
Michael Duer
03/22/2021
$26.06
Great cause!
Benjamin Childers
03/22/2021
$515.24
I miss running with you, Lydia! I'll be cheering you on from DC.
Montoya Whiteman
03/22/2021
$56.02
I hope the post-run high lasts a lifetime. Thank you.
Chloe Frankovic
03/22/2021
$20.00
Lauren Furphy
03/22/2021
$51.80
A fabulous accomplishment! Thank you for all of your hard work making this world and community a better place.
Karletta Chief
03/22/2021
$20.91
In memory of my aunt.
Caroline Mosley
03/22/2021
$51.80
Big congrats on all these accomplishments! Amazing work.
Anonymous Friend
03/21/2021
$26.33
Elizabeth Tuck
03/21/2021
$51.80
Nancy Cardona
03/21/2021
$51.52
Congratulations, Dr. Jennings! Your run is stuck a beautiful tribute to all who have paved the way AND for those who have yet to travel that road.
Yamina Pressler
03/21/2021
$52.34
Congratulations Dr. Jennings!!!!
Liz and Jess Dahlmann-Pillow
03/21/2021
$103.30
Congratulations, dude!
Cristina Jones
03/21/2021
$51.80
Kirby Drake
03/21/2021
$51.80
Eric Palmer
03/20/2021
$26.06
Verl Allen
03/20/2021
$103.30
Parmvir Bahia
03/20/2021
$51.80
Ronda Charles
03/20/2021
$103.30
Congratulations! Thank you for your Kindness and Courage!!
Anonymous Friend
03/20/2021
$51.80
Iris Delaney Francisco
03/20/2021
$103.30
Amanda Folk
03/20/2021
$51.80
Julius Lubin
03/20/2021
$15.76
Michael Dockry
03/20/2021
$21.12
Good luck on the run and thank you for inspiring so many of us!
Kathleen Johnson
03/20/2021
$52.34
Tara Abrams
03/20/2021
$51.80
Stanford Lake
03/20/2021
$41.50
Glad to support indigenous running that supports our indigenous communities in a positive way.
Joslynn Lee
03/20/2021
$51.80
Way to run!
Lani Tsinnajinnie
03/20/2021
$51.80
Way to go!!
Anonymous Friend
03/20/2021
$15.76
Kyle Dahlin
03/19/2021
$20.91
Sarah McCullough
03/19/2021
$26.06
Good luck to you! I love the way you are celebrating your achievement and raising funds for others! I've run 50 miles, and it's no small undertaking! Stay well rested and well hydrated!
Caryn Capriccioso
03/19/2021
$26.06
Anonymous Friend
03/19/2021
$51.80
Go, Dr Jennings!
James Bettles
03/19/2021
$26.26
Keep on setting the pace!
Anonymous Friend
03/19/2021
$500.00
Thanks and congratulations to Dr. Jennings.
Steven Semken
03/19/2021
$51.80
Congratulations on your PhD, Lydia, and success to you on all of your journeys! Steve
M Yellowhair
03/19/2021
$103.30
Congratulations Lydia! You are amazing!
Crystal Tulley-Cordova
03/19/2021
$69.76
Kevin Anchukaitis
03/19/2021
$51.80
Peter Lea
03/19/2021
$51.80
Katherine Cristiano
03/19/2021
$20.91
Donovan Price
03/19/2021
$51.80
Good luck Dr. Jennings and keep inspiring indigenous women throughout the world. God Bless.
Benjamin Longcor
03/19/2021
$103.30
Congratulations Lydia!!!!! I'm so incredibly proud of you!
Naomi Lee
03/19/2021
$51.80
Congratulations, Dr. Jennings!!
Tamana Begay
03/19/2021
$51.80
Sergio Avila
03/19/2021
$36.35
Good luck on your run Lydia! Time to celebrate.
Earyn McGee
03/19/2021
$20.91
Chris Anderson
03/19/2021
$51.80
Congratulations Lydia and good luck this weekend!
Kunal Palawat
03/19/2021
$77.55
Norma Villagómez-Márquez
03/19/2021
$26.26
Congratulations, Dr. Jennings! You are an inspiration to us all.
Anonymous Friend
03/19/2021
$51.80
Joe Plassmann
03/19/2021
$103.30
Anonymous Friend
03/19/2021
$41.50
Jennifer Wolf
03/19/2021
$51.80
Catlow Shipek
03/19/2021
$51.80
Congrats Lydia!
Jessica Wise
03/19/2021
$20.91
Congratulations, Dr. Jennings!
Rowan Martindale
03/19/2021
$103.30
Anonymous Friend
03/19/2021
$103.30
Agnes Attakai
03/19/2021
$103.30
Congratulations Dr. Jennings. An inspiration to Native folx.
Fiona Bennitt
03/19/2021
$103.30
Charles Aukai
03/19/2021
$103.30
Congrats Dr. Jennings! Keep inspiring.
Levi Esquerra
03/19/2021
$206.28
Thanks and Congrats Dr. Jennings!!!!
Anonymous Friend
03/19/2021
$51.80
Erika Marin-Spiotta
03/19/2021
$77.55
Colby Moorberg
03/19/2021
$10.61
Good luck! You're an inspiration!
Rory Jacobson
03/19/2021
$31.20
great work and best of luck with your run!
Jennie Duberstein
03/19/2021
$154.79
Congratulations, Lydia! You're going to have an amazing run!
Faith Kearns
03/19/2021
$51.80
Cheering you on always!
Stephen Hughes
03/19/2021
$51.80
Kuwanna Dyer-Pietras
03/19/2021
$31.20
Sending you so much love, Dr. Lydia! Thank you for all that you do and for being such an incredible advocate and role model. Congratulations on earning your PhD and I wish you a very blessed run.
Michael Bogan
03/19/2021
$103.30
You're an inspiration, Dr. Jennings!!
Dee Gardner
03/19/2021
$51.80
Congratulations, Dr. Jennings!
John Mollenhour
03/19/2021
$10.61
Leslie Marasco
03/19/2021
$51.80
Ruben Hernandez
03/18/2021
$5.46
Montoya Whiteman
03/18/2021
$20.91
Good Luck Dr. Jennings. You're amazing!
Total
$9,066.30
Report Abuse
Edit My Page